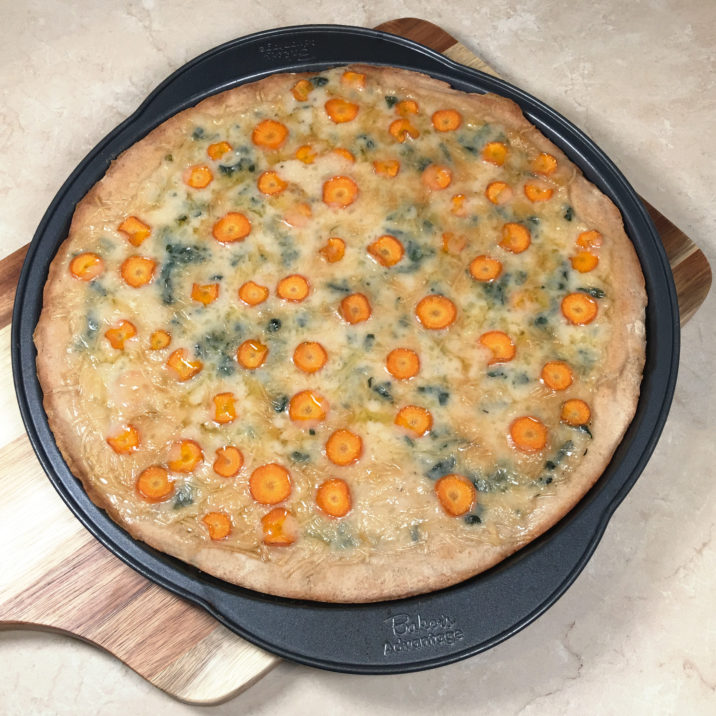 I just love this gluten free vegan pizza so much!! I wanted to create something that was healthy in nature, yet captured the essence of pepperoni pizza. Enter liquid smoke. If you haven't worked with liquid smoke before, I can't suggest it enough. Be sure to get a product that's not something like "water + natural smoke flavor". Instead, you want a product that's pure liquid smoke. Before using the one we purchased, made by Lazy Kettle Brand, I called them to make sure it was authentic. I asked about the process, allergens present, etc., and I can report that it's an allergy free product and the process is what you'd expect. They smoke wood, capture the smoke, and bottle it via a process (it's what we would do at home if we made it ourselves).
The results are amazing by the way. Lazy Kettle Brand has created a product that you want to stand around and smell all day… not even kidding right now. OK, back to the pizza. The key to getting a meaty pepperoni flavor was the amazing liquid smoke. Crafting recipes is about incorporating multiple senses, especially smell. I don't know about you, but when I smell something smoky, my mind takes me to meat and grills… the brain is wonderful like that 🙂
Allergy Status:
Wheat/Gluten Free, Dairy Free, Egg Free, Soy Free, Nut Free**, Peanut Free, Yeast Free**, Cane/Refined Sugar Free**, Sesame Free, Legume Free**, Nightshade Free**, Allium Free, Oat Free, Diabetic Friendly, EOE Friendly, Vegan
**Be sure to select safe-for-you cheese and pizza dough. Some of you may need to make the latter at home.