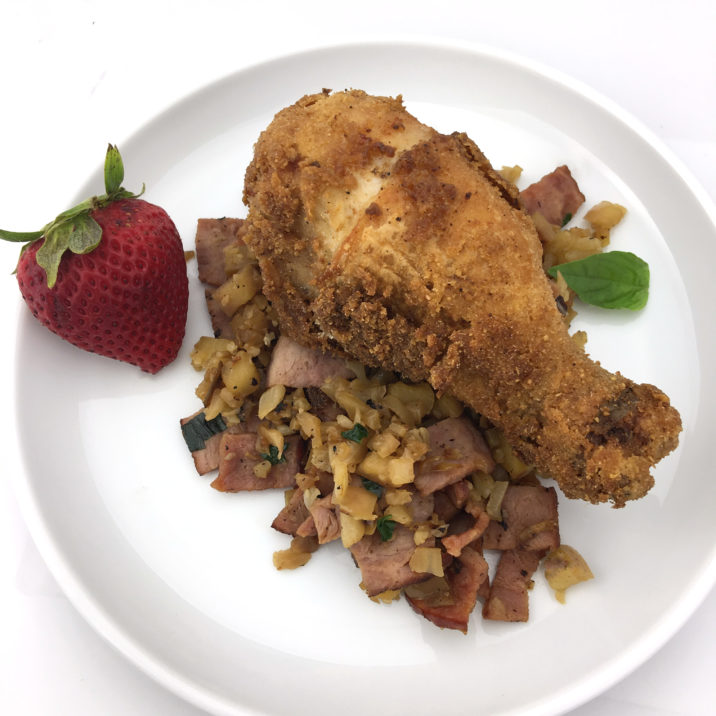 OK, let's be honest: There's a reason there are quotes around the word Paleo in the title today. Is fried chicken really Paleo and AIP compliant? Not really. Sure, we've used all the right ingredients to keep this Paleo and AIP chicken recipe compliant. It is gluten free and grain free… Always remember that recipes such as fried chicken should be a once-in-a-while treat if you're following a special diet such a Paleo, GAPs, AIP, SCD, etc. The goal of these diets is to promote healing and overall well being, and fried chicken isn't quite that. It is delicious though.
If you saw yesterday's breakfast post, today's Paleo fried chicken is served atop our Paleo Apple Bacon Cookup.
Allergy Status:
Wheat/Gluten Free, Dairy Free, Egg Free, Soy Free, Nut Free, Peanut Free, Yeast Free, Cane/Refined Sugar Free, Sesame Free, Legume Free, Nightshade Free, Oat Free, Diabetic Friendly, Paleo, AIP, Allium Free Compatible, Low Histamine Compatible
*Some people who are Low Histamine are unable to consume chicken.