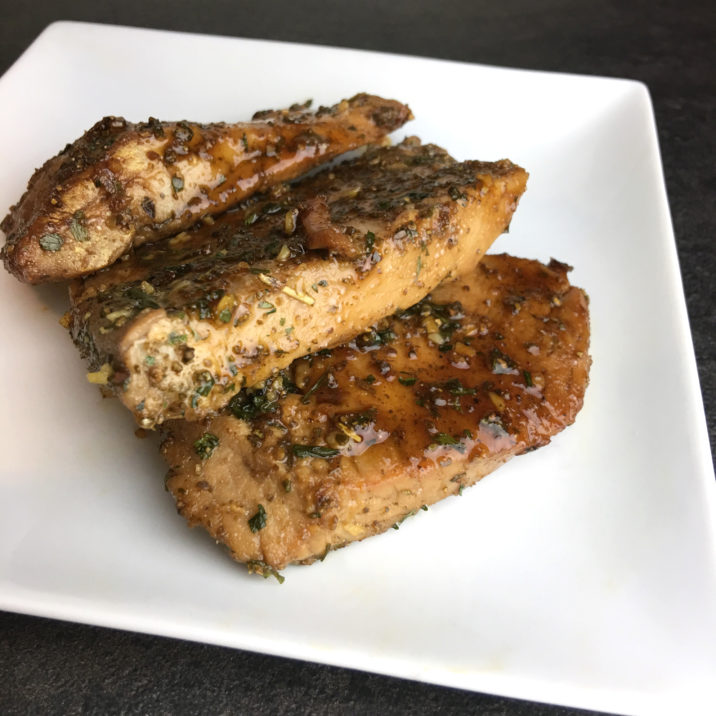 You'll probably have noticed that we have a lot of maple based recipes on RAISE. We do that for multiple reasons. First off, maple is diabetic friendly, and good for those that can't tolerate cane sugar. It's also inclusive of those who are Paleo and AIP. What's even better, granulated sugars are easy to substitute. If you can't have maple, you have other options: raw sugar, white sugar, light brown sugar, dark brown sugar, and coconut sugar. This ahi recipe is very inclusive, as it doesn't use cane sugar, however, if that's what you'd like to use, go for it. I would suggest light brown sugar if you choose to substitute. Now, let's talk about that ahi.
Costco sells wild ahi fresh where we live, however, it is a little pricey. We pay on average $25 for the ahi, and it will make one dinner. Now, divided over several people, it's not so expensive, but by comparison, canned tuna is less expensive. Needless to say, it's something that I make the kids every couple of months. At Costco, I usually purchase two packs of ahi, make one fresh, and pre-slice the second pack and freeze it for a future dinner.
I've been making ahi for the kids for years (usually savory), and I knew it was time to do something different, and this was a MEGA Hit! Kid Four isn't a huge fish fan, and usually only eats a couple of pieces. The others sacrifice themselves and offer to eat the extras for me. I know, how brave, noble, and thoughtful of them, hehe. However, this version, Kid Four was more than happy to eat several pieces, and even asked for seconds.
Allergy Status:
Wheat/Gluten Free, Dairy Free, Egg Free, Soy Free, Nut Free, Peanut Free, Yeast Free, Cane/Refined Sugar Free, Sesame Free, Legume Free, Oat Free, Diabetic Friendly, Paleo, GAPs, AIP Compatible, SCD Compatible, Corn Free Compatible, Nightshade Free Compatible, Low Histamine Compatible
*Some people who are Low Histamine are unable to eat any fish, including fresh.