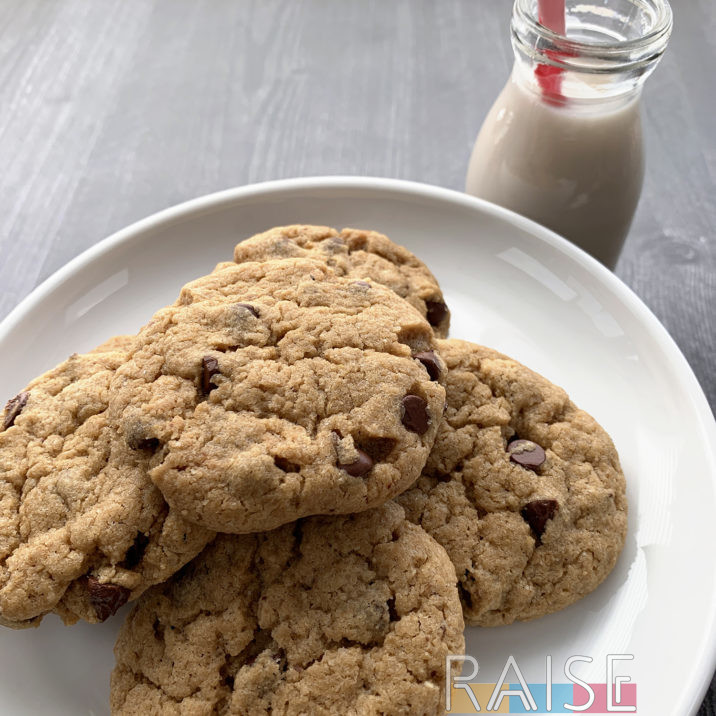 We're here with another Easy Baking Video, and today we're sharing with you one of our family (and bakery) "secret" recipes. You have no idea how much I had to convince The Papa that it was OK to share this cookie recipe with you guys. This Awesome Chocolate Chip Cookie is a vegan dessert as well as a gluten free dessert. Who am I kidding. It's also a snack. And perhaps a meal replacement on a busy day 🙂
We spent years messing around with chocolate chip cookies. Each time I'd make them, I'd do something different just for the fun of it. Then the bakery had a big client that needed a legit cookie to serve. That's when I had to roll up my sleeves and get the recipe spot on… no more messing about. After 6 variations, THIS was the top 8 free recipe that everyone said was to die for delicious. SO, let's get to that video.
RAISE Members, be sure to click the read more button for the full recipe and details.
Allergy Status:
Wheat/Gluten Free, Dairy Free, Egg Free, Soy Free, Nut Free, Peanut Free, Yeast Free, Sesame Free, Legume Free, Allium Free, EOE Friendly, Vegan, Nightshade Free Compatible
For Nightshade Free: Use an alternative baking powder