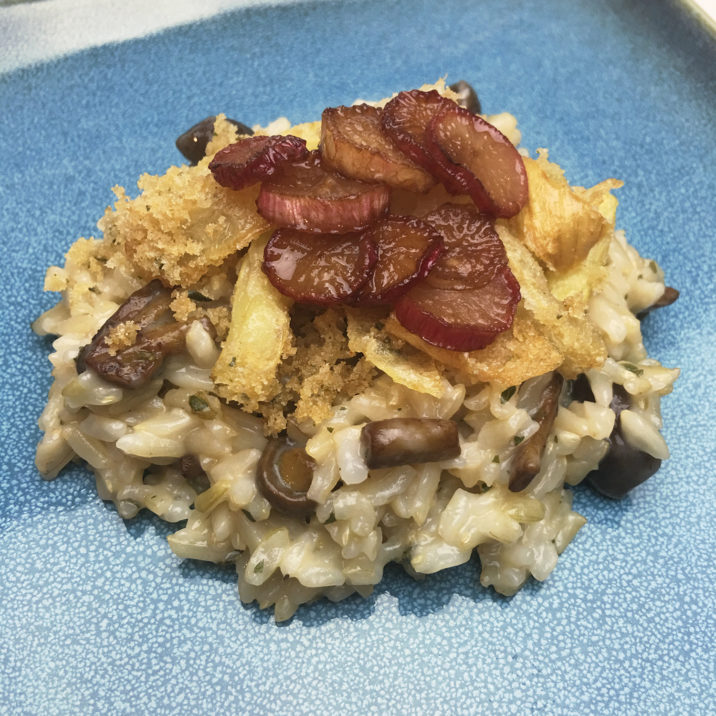 Officially, the name of this gluten free vegan dish is quite a mouthful: Creamy Mushroom Parmesan Rice topped with Organic Fried Onions, Yellow Beans, and Balsamic French Breakfast Radish. Try saying that five times fast… I'll wait 🙂
I often go between creations that I want to see in a Michelin starred restaurant, to recipes that are perfect for everyday use. It stems from a deep desire to make sure that those with food allergies and special diets don't miss out on anything awesome. Luckily, we live in a time where that's getting much better. There are a lot of specialty restaurants and food trucks popping up all over the country, and that gives me so much hope for the next generation.
Allergy Status:
Wheat/Gluten Free, Dairy Free, Egg Free, Soy Free, Nut Free**, Peanut Free, Yeast Free**, Cane/Refined Sugar Free, Sesame Free, Nightshade Free**, Oat Free, Diabetic Friendly, EOE Friendly, Vegan
**Be sure to select a cheese that works well for your needs.