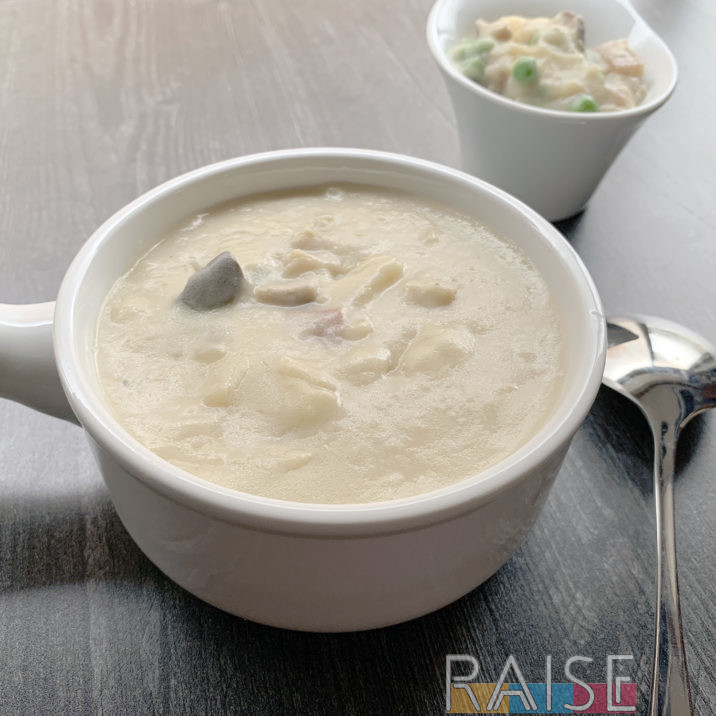 I'm sure for many of you school is getting back into session. I've found that once school starts I break out meals that are hearty and easy to batch cook. This vegan chowder recipe is perfect for both of needs. Kid Two has told me again and again just how much he loves this gluten free chowder recipe. He seriously can't get enough of it. I've been making it in big batches for him and freezing them. He then reheats them in the toaster oven and everyone wins. The Papa even says that for a dairy free chowder, this is really tasty. It's also top 8 allergy free too.
For fun, the kids like to call this Sham Chowder. I crack up every time they say it 🙂
Today we'll be showing you two ways to make a gluten free, vegan, dairy free chowder. One version has dairy free cheese and the other doesn't. They're both delicious and both easy to make.
Allergy Status:
Wheat/Gluten Free, Dairy Free, Egg Free, Soy Free, Nut Free, Peanut Free, Yeast Free, Cane/Refined Sugar Free, Sesame Free, Legume Free, Oat Free, Diabetic Friendly, EOE Friendly, Fructose Intolerance Friendly, Vegan
RAISE Members, be sure to hit the read more button for the full recipe.