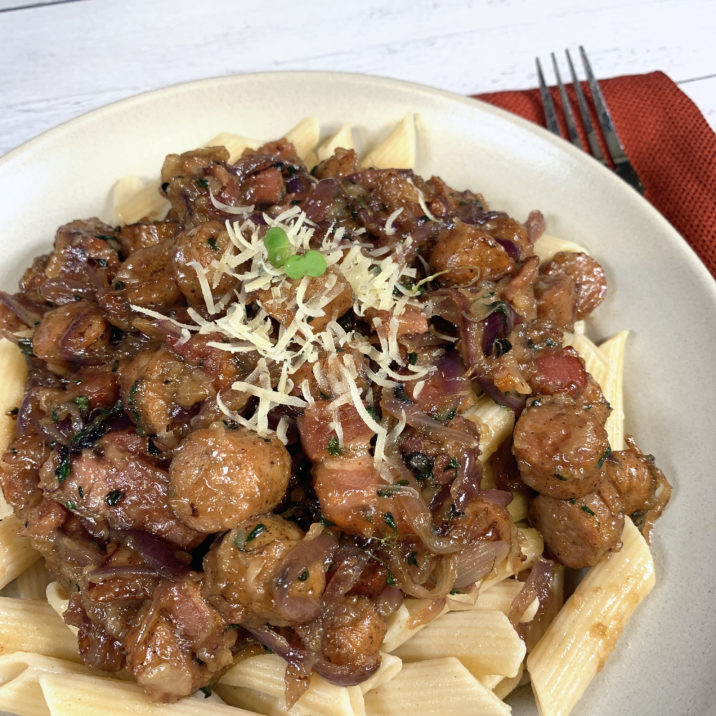 Did you see yesterday's Vegan Parmesan Pasta Recipe that's the "sister" recipe to this recipe? Everyone said it was delicious, but they also loved this Chicken & Bacon Parmesan Pasta recipe too. It all started with one of my "Best Idea Ever!" moments when we had chicken sausage and bacon in the fridge. Thoughts of ooey gooey goodness flooded my mind, and the challenge of creating something many could enjoy was sparked.
If you're a meat eater and would like to experiment with plant-based meals here and there, be sure to read yesterday's Vegan Parmesan Recipe. It's a real winner. Also, pizza and tacos. Those are easy to make plant-based, and usually pretty tasty. But I digress, so back to this recipe.
Today's Chicken & Bacon Sausage recipe doesn't require a ton of ingredients because each one is packed with flavor. I will warn you, there is quite a bit of prep time involved (about 20 minutes), so avoid making this on a really rushed night (unless you prep in advance). You want to make this recipe when you have time to enjoy the art of cooking, allow the aroma to penetrate every corner of your home, and have people wondering what on earth smells so good. Yes, it's one of those meals.
Allergy Status:
Wheat/Gluten Free, Dairy Free, Egg Free, Soy Free, Nut Free, Peanut Free, Yeast Free**, Cane/Refined Sugar Free**, Sesame Free, Legume Free**, Oat Free, Diabetic Friendly
**Be sure your sausage, bacon, and cheese are all safe for you.